What is a DevOps Engineer?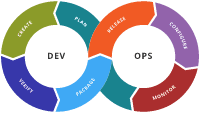 Description
A DevOps Engineer should have a wide-ranging knowledge of both development and operations. They work across company silos to create a more collaborative environment.[1]
DevOps engineers combine people, process, and technologies to continuously deliver valuable products and services that meet end user needs and business objectives.[2]
–Microsoft
DevOps engineers combine software development (Dev) and IT operations (Ops) to shorten the system development life cycle while delivering features, fixes, and updates frequently in close alignment with business objectives.[3]
DevOps is both an organizational structure and a mindset with an emphasis on automation. Under the DevOps framework an operations team is no longer responsible for deployment and operation of services; the application's development team takes on these responsibilities.[3:1]
General Requirements[3:2]
Strong understanding of common system architecture, provisioning, and administration.
Experience with traditional developer toolsets and practices.

(i.e. source control, code reviews, unit testing)

Familiarity with agile principles and Scrum frameworks.
Sources
---